Excavation
Sometimes plumbing projects expand beyond a simple drain snake or water jet cleaning. If it's discovered that your sewer pipe is cracked, collapsed or has extensive damage from tree roots, or if there is standing water in your yard, plumbing excavation may be necessary.
Your plumber at Frost and Kretsch Plumbing is a certified technician who will be able to diagnose the severity of your issue and recommend the appropriate course of action to solve your problem.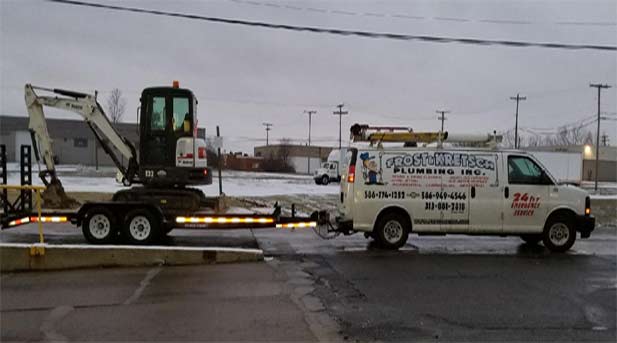 By using state-of-the-art equipment, your line is scoped for a less invasive diagnosis than digging up your yard!
If plumbing excavation is required, experienced professionals will work with you every step of the way to ensure your problem is taken care of effectively and efficiently.
Residential services include:
Installation of new home utility lines; water, gas and sewage
Repair and maintenance of existing home sewer and water lines
Installation of French drainage
Ditch digging for utility, septic systems and storm sewer drains
No hidden fees or costs!
Your technician will provide your project cost prior to beginning work. The final bill will not exceed the quoted price. Guaranteed.