Plumbing Company in Bloomfield Hills MI
Plumbing Company in Bloomfield Hills
Frost and Kretsch Plumbing, The business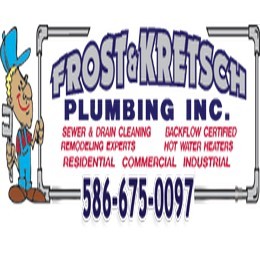 can be a leader in both commercial and residential plumbing company in Southeast Michigan. Their specializes is made up of the maintenance of plumbing systems, fixing water main breaks, replacing heater for warm water (Lochinvar and Bradford White), installing new sump pumps (Zoeller and Liberty Pumps) and cleaning of drains. Emergency services are given to all areas. The organization promises a whole satisfaction of their customers.
Residential and Commercial Plumbing
Within residential plumbing services, the corporation provides installation and repair of sump pumps and sewage ejection pumps, sewer camcorder inspection, cleaning of sewers and drain systems, repair and installation water heaters, installation and repair off water and sewer connections, quality installing new toilets, bathtubs, showers, sinks and faucets. Among its complimentary activities, the organization takes responsibility with the installation, repair or replacing garbage disposals and the repair or removal of frozen pipes. The technicians inform the customer about expectable costs.
Sewer and Drain System Maintenance or Repair
The Company offers repairing and cleaning of varied sizes of drain and sewer. Most often the dog pros are called for taking care of main sewage lines connecting kitchen sink and bathrooms. Aside from bathroom and shower lines, additionally, they undertake defective trench line, garbage disposals and slow-moving drains. Using a high-capacity water jetter, the technicians are able to remove debris from sewers and drains causing clogs. Most typical contractors with the company are condominiums, building retailers and manufacturers, property management companies, automotive retailers, hospitality providers (like hotels and restaurants), sport complexes and small retail shops.

Excavation
Plumbing excavations could possibly be necessary in case of a cracked, damaged or collapsed sewer pipe. Residential excavation services include investing in brand new home utility lines (water, gas and sewage), the repair and maintenance of existing home sewer and water lines, investing in French drainage as well as the ditch digging for utility, septic systems and storm sewer drains.
Call us at (586) 675-0097